I was interested to see that
FORTUNE has ranked SAS
as number one best company to work for in America.
FORTUNE lists
child care, health insurance, and the Cary campus's medical centre & fitness centre as just some of the reasons for SAS's top result. For those of us that don't work for SAS this is still good news because we can rest assured that new versions of the software are being developed by happy and
motivated
staff. As Mikael Hagström (Executive Vice President, EMEA and Asia Pacific)
says in his blog
, SAS's focus on its staff ensures that it is able to "continue to attract top talent and domain experts".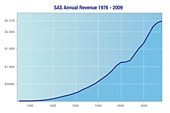 Also on the radar for those who have invested in SAS software: SAS have
reported revenue growth
of 2.2% (to $2.31 billion) in 2009. Whilst this is a lot less than the fabled "double digit growth" that SAS have achieved for most of their 34 year history, it's still a good performance in the current market conditions. Indeed, in some markets, such as retail, double-digit growth has actually been achieved. However, a note of caution is required. The Bankers' Mantra says "turnover is vanity, profit is sanity". I've not seen any published profit figures (as a private company SAS are not obliged to publish any), so we can't be sure at what cost the increased revenue was produced.
"We live in a global economy," said SAS Senior Vice President Jim Davis. "Not everyone is turning the corner at the same time. In 2010, we need to realise where the opportunities lie and how to approach those opportunities based on whether that particular region is seeing the light at the end of the tunnel."