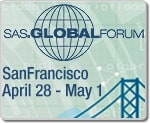 I referred back to my
Booked for SGF 2012
post to make sure I'd done all what was necessary for my 2013 trip. I'mall set and ready to go!
There was a time when I'd need to put my slides onto floppy disks, keeping one for myself and giving one or two to colleagues who were also going to SGF. In that way, I could be confident of turning-up for the conference with a presentation to present. Uploading my paper and slides to the Call for Papers web site gives me the confidence of knowing that my slides will be on the streams' PCs before I even set foot in the presentation rooms for
my two papers
.
I'm looking forward to going and seeing a real city rather than the ersatz location that is Walt Disney World. I'm arriving on Saturday, and staying on for a couple of days after the conference. Can you recommend a tourist site to visit?
Andrew Karp
has
already recommended
the
Computer History Museum
in Mountain View.
Last year I booked flight and accommodation as a "holiday" package with Virgin Holidays (including free return transfer from airport to hotel), but the Virgin hotels don't seem near the San Francisco conference centre this year, so I'm flying with Virgin Atlantic and staying in the conference hotel. I also booked:
Car parking for my car to be left in the UK
Lounges with wi-fi so I can make best use of my time whilst hanging around the airports waiting for flights
A new application for entry to the US through the Electronic System for Travel Authorisation (ESTA) - my previous application had last two years and had run out
Travel insurance
Conference registration
Did I forget anything??
Will I see you in San Francisco?